A Few Things I Learned From Teaching:
When you were young did you?
Cry for no reason? Be the person that holds a child until the crying stops.
Did you get in trouble? Be that unconditional support when a child is in need of structure and discipline.
Did you have a temper?kick and hit? Be that person that sits and listens and gives hugs instead of lectures.
When we see a child that has lost control on the outside with hitting others, themselves, throwing objects, kicking, spitting, swearing. What they are portraying on the outside is nothing compared to how they feel about themselves on the inside. Trust me when I say I know it's hard in those moments of 'fits', when you really want to run away from the child, but that is the time when the child needs you the most. Just sit wait for it to pass by making sure the child is safe, the area is safe, defuse the situation by using calming words in a calm tone. I know this helps, it is something I had to learn as a new teacher when I first entered into the classroom. It going to save you a lot of heartache and headache when you learn to accept the child for who they are at different levels of ages and stages of their life, rather then trying to make the situation easy for you as a teacher.
******************************************
Music For The Soul . . . or Naptime!
I would bring into the classroom all different genres of music. Our students came to school at very early morning hours, we would listen to classical music as we worked on a puzzle or a painting. We introduced them to Beethoven, Mozart, Bach ("back" that's how some students pronounced it!Lol) their favorite was a couple of recent composers George & Ira Gershwin. The students that loved the classical sounds, most of them rode to school every morning with the music  of vulgar language, loud bass sounds that vibrated the whole car. It was so bad that the Principal of our School would be out in the parking lot every morning trying to educate parents of the dangers of listening to music at such a high level. Listening that loud to any kind of music is not good for your hearing, especially for little ones. My little students really appreciated the different sounds of music I brought into the classroom – try it! You'll be surprised. . . .
**********************************
Teacher Tip:
Here is a tip that was shared with me, and I have shared with other paraprofessionals, consultants and sub teachers in the past. I had a position where I had several centers a day that I assisted. I had a folder for each one, I printed the schools logo with name – address – classrooms numbers on each designated folder. I kept them in my tote bag, ready to use and update daily. It was a great time saver, and kept me flexible within my position.
Be creative . . . .
Peace & Harmony ~ Cheryl
**********************************
What's For Dinner?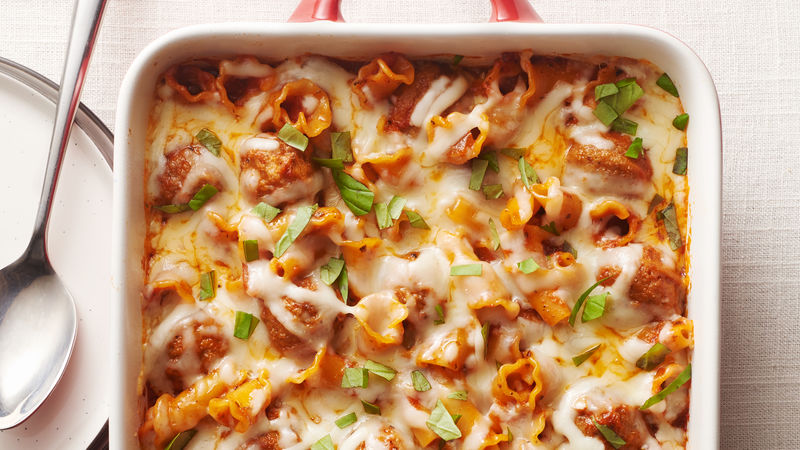 Dump-and-Go Meatball Lasagna
Ingredients
8
oz uncooked campanelle pasta (2 3/4 cups)
24 frozen cooked Italian-style meatballs (from 22-oz bag)
1 jar (25.5 oz) Muir Glen™ organic tomato basil pasta sauce
1 1/2 cups water
1/2 teaspoon Italian seasoning
1 1/2 cups shredded mozzarella cheese (6 oz)
Chopped fresh basil leaves, if desired
Steps
1 Heat oven to 375°F. Spray 13×9-inch glass baking dish with cooking spray.

2 In large bowl, mix pasta, frozen meatballs, pasta sauce, water and Italian seasoning. Pour mixture into dish. Cover tightly with foil. Bake 40 minutes. Remove dish from oven; stir mixture thoroughly. Sprinkle with cheese.

3 Bake uncovered 5 to 8 minutes longer or until pasta is tender and cheese is melted. Garnish with basil leaves before serving.
Expert Tips:
Shredded Italian cheese blend may be substituted for shredded mozzarella cheese.
Stir in 1/4 to 1/2 teaspoon crushed red pepper flakes to add a subtle spicy heat to this pasta.
** Add a nice leafy green salad to this meal **
********************************
Are you looking to gain Clarity in your life? Comment me @ cchomeconcierge@gmail.com. We can talk about what the next step will be, you already made the first step. I'm so proud of you.
Like me here – Facebook – homeconciergeandorganizer
20% off First Concierge Service Booked – Offer good until 3/31/2019